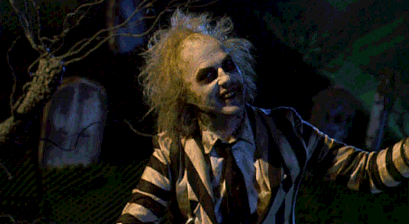 Entertainment News for 10.13.17
Sammy Hagar turns 70 today. Put that in your pipe, smoke it, and then cry about how old we all are.
Gillian Anderson announced over the weekend that this new season of The X-Files will be her last. With the trailer premiering last week, some of the footage makes me wonder if they will be shuffling Scully off this mortal coil for good.
Deadline is reporting that Warner Bros. has hired a writer for a Beetlejuice sequel to again star Michael Keaton, who is a movie star again with his turns in Spider-Man: Homecoming, Birdman, and The Founder. This is the latest attempt at a Beetlejuice sequel, with a trip to Hawaii and a script by Seth-Grahame Smith among the misfires. Look, I love the original, but we're 30 years on at this point. I doubt this will ever get off the ground.
Thor: Ragnarok has screened for critics, and is getting rave reviews as a fresh, and hilarious, take on the Marvel universe. It is tracking for a $90-$100 million opening, which is much higher than the first two in the series. New Zealander Taika Waititi, of Flight of the Concords and What We Do in the Shadows fame, directs (and the rumor is he may direct a live-action adaptation of the towering anime classic Akira, as well).
Just in time for Halloween, Netflix has added the entire Saw franchise to the service. The next sequel, Jigsaw, hits theaters on 10.27, so this gives you an opportunity to relive the glory of these touchstones of torture porn.
Also on Netflix, Mindhunter, the new series from the great David Fincher, has arrived. Critics are pleased, calling it cerebral, chilling, and in step with today's headlines. I'll watch anything from the creator of Zodiac, Se7en, and The Social Network, so I'll be checking this out this weekend.
Questions, comments, or complaints? Respond away below!