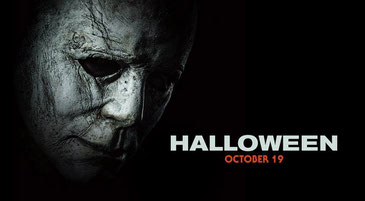 Halloween is as good as a 40-years-later sequel has any right to be, and it is plenty good enough. This one ups the violence, ups the surprises, and ups the examination of the effects trauma can have on people's lives. Laurie Strode (Jamie Lee Curtis) has been left a broken woman after the events of the original film in 1978 - she has led a paranoid life, suffered a string of broken marriages, and even lost guardianship of her daughter. She has, however, been training for the day that The Shape, Michael Myers, comes calling again. "Forty years ago, he came to my home to kill," she says, "and now he's back to finish what he started, with me: the one person who's ready to stop him." Laurie has gone Sarah Connor, 'burbs style. 
David Gordon Green directs, and he and Danny McBride write and produce, moving from broad comedies like Vice Principals and Pineapple Express to beloved, classic horror. The hints of humor in this film are actually funny, and their portrayal of high school life is spot on. The humor is welcome, as the rest of the film is so nasty and graphic that the levity is a perfect release. Make no mistake, this movie is gory. Michael Myers pulls no punches during his brutal murder spree. Yes, there are call-backs to 1978's Halloween, but here they are turned up to 11.
"...this collision of two immovable objects...is an invigorating, terrifying watch."
This Halloween is all about violence, after all. Not just the strangle and stab kind, but the type of violence that reverberates through generations. We're talking PTSD here, not something usually broached in the slasher movie genre. Laurie Strode has thought of nothing except preparing for the violence to return, which she will meet, in turn, with violence. When this collision of two immovable objects happens at the climax, it is an invigorating, terrifying watch. There are scenes in the last half-hour of this film as filled with suspense as any in the genre, and it's all character based, not just "that looks cool" goings-on. Judy Greer and Andi Matachak play the other two members of the Strode triumverate of strong women, and they excel at making their characters humanity show through, which is a rare thing in horror movies. Other than the famous "final girl," horror often uses its characters simply as chum for the killer. Not here.
There are two big twists in this film, one that worked "clap in the theater" well and one that really doesn't work very well at all. The movie is so good, though, that the misstep is quickly forgotten and you're pumped to see what happens next. The way Halloween ends, I'm not sure where they'd take a trilogy capper, but if the creative team from this one decides they have another one in them, I'll be there.