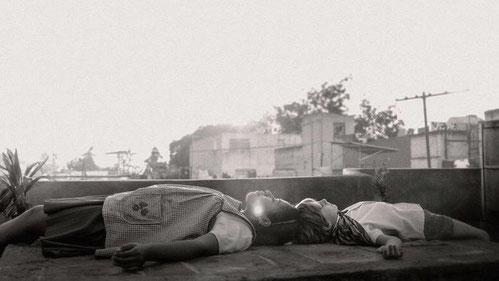 There is much to admire about Roma, Alfonso Cuaron's small tale of a Mexican housekeeper's life told on a grand scale. There are real scenes of devastating emotion, government upheaval, and shocking violence, and the camera soaks in the sights of Mexico and her people. Rarely has such a personal story been painted on such a large canvas. Yalitza Aparicio stars as Cleo, who works for a middle-class family going through its own storm, and she is a wonder. This entire film rests on her back, and she carries it with no problem. Her character's arc would be challenging for any actress, and she is so genuine and effecting that you just want to spend more time with her.
Interestingly, though, my issue with Roma IS the amount of time we spend with this film. It feels long, and is really saved by the last 45 minutes, a tour de force of powerful images and sensations. There are long stretches of this film that dragged a bit for me, scenes that add color and depth to the proceedings but don't push the narrative fast enough. These parts are art, no doubt, and beautiful, but the story's momentum suffers. Those last 45 minutes, though - hang on and just breathe them in. The film jumped 2 stars for me right there.
Roma is beautiful, and will absolutely be recognized this award season. The fact that it is streaming into everyone's house on Netflix right now is a wonder, and this is a film everyone should take in. Just be ready for a few slow beats.